How our businesses community can help protect loggerhead sea turtles
Every year, hundreds of loggerhead sea turtles build nests to lay eggs on our beaches. On average, these sea turtles lay 120 eggs in a nest two to eight times during a nesting season. The thousands of hatchlings that are born then attempt the trek from the beach to their ocean home.
Hilton Head Island has always prized our natural resources — water, land, and wildlife. Our successful management of loggerhead sea turtle nesting season has led to these majestic creatures nesting in record numbers in recent years. In 2022, 423 nests were counted.
Chamber of Commerce members can help future generations of loggerhead sea turtles continue to prosper on our sandy shores by making small adjustments to daily life during nesting season — from May 1 to October 31 — when our beautiful coastal environment plays an especially important role in the conservation of this endangered species.
Learn More about Turtles on Hilton Head Island
Lights Out for the Loggerheads
Sea turtle hatchlings use the light of the moon to get to the ocean, so artificial lighting visible from the beaches can be confusing and make it impossible to reach their final destination — the ocean. That's why the most important way we can protect these hatchings is to keep the outdoors dark during nesting season by following the Town Light Ordinance.

Town Light Ordinance Regulations - Effective May 1 to October 31
If your building is visible from the beach, turn off your outside lights at 10:00 p.m.
If your interior lights are visible from the beach or cast light on the beach, close your blinds or drapes at 10:00 p.m., or turn them off completely.
This ordinance also prohibits digging holes in the sand more than 12 inches deep, leaving personal belongings on the beach overnight or leaving trash behind. This gives turtles a clear path for laying nests and getting back to the ocean.
To view the full Ordinance, Click Here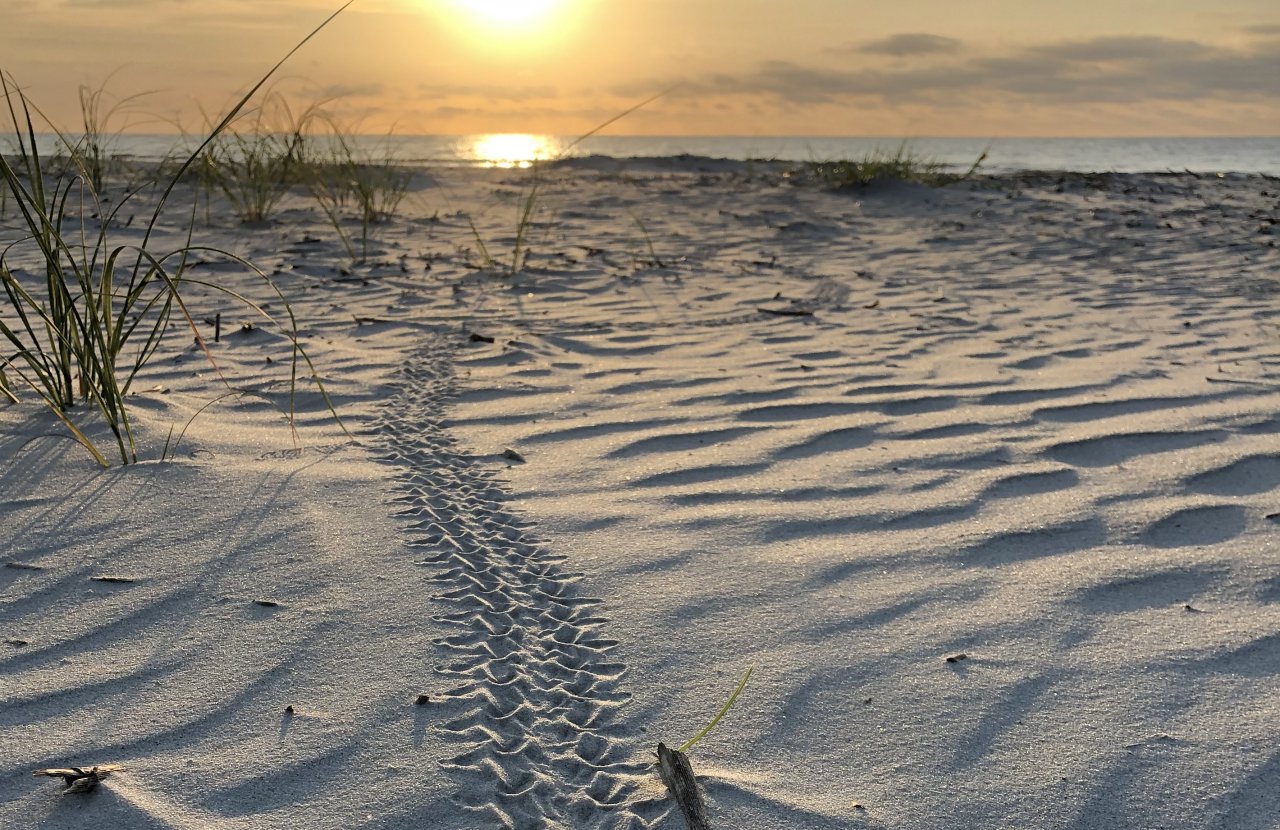 Order "Lights Out" Awareness Items for Your Business
As part of a community-wide education effort, businesses, realtors, property managers, and residents can order from a selection of "Lights Out'' awareness collateral — currently including window clings and awareness flyers — free of charge. Proudly displaying these turtle-branded items is another simple way to spread awareness to visitors and beachgoers about the protective regulations in place during sea turtle nesting season.
To order 'Lights Out' window clings and flyers:

Download the Flyer